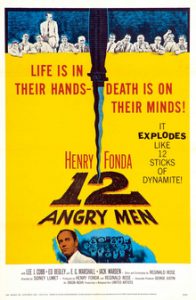 It was one of those days when I wanted to watch a movie that would make my evening not just enjoyable but would give me something "new". For me a movie watching experience has to be something that allows me to learn even if it is the name of a new star!
On the recommendation of a good friend, I decided to watch "12 Angry Men"    (which incidentally inspired the Hindi movie, "Ek Ruka Hua Faisla"). Starring Henry Fonda, this 1957 Black and White release has been much spoken about for it's simple yet hard hitting way of bringing across people, their beliefs, their behaviors and their perspectives. A much talked about film in the academic circles of film making, acting and Management, the movie is a perfect recipe to discuss over freshly brewed beverage!
Shot in a single room on a hot sultry evening, the movie revolves around a group of 12 jurors whose basic aim is to decide unanimously whether to send a teenage boy to the electric chair for killing his father or not. The plot unfolds when all but one juror finds the accused not guilty. The next hour or so is about how in his own way the protagonist of the movie, Davis, turns around the 11 other men to change their decision without any coercion and peacefully determines a unanimous decision of not sending the accused to the death row.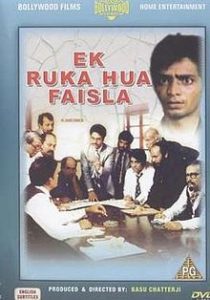 For some of us who have watched the movie or its Bollywood avatar, there is a "feel" about the accused either being guilty or not guilty. What left me mesmerized was that through the movie I swayed in my decision based on the facts being presented in every frame of the movie. As I got deeply involved in the movie, I began to realize that the movie has many spots and subtle moments from wherein I could derive lessons. Lessons, that I could take back with me to become a better person and also to use them during my Coaching engagements.
Today I thought I could pen my thoughts about being a good Leader. Much has already been discussed, analyzed and talked about Leadership, but when you close your eyes and think of one person who stands out as a Leader to you, I am sure you will find the following traits in the person who you are thinking about:
A Leader Pushes People to Think Beyond the Obvious – Davis, amongst all the men, is the only person to feel that the accused is "not guilty" because he is not convinced about the whole crime as it does not seem "logical". The movie does not delve into who actually did it but more into how the accused could not have done it. With his subtle way of putting his point across, Davis conveys to everyone his thoughts about why the accused could not have committed the crime. As the discussion unfolds, one after the other, the other Jurors start to think objectively on what was presented to them in the court. Though all evidence seems to convey the obvious of the crime being committed by the accused, Davis pushes the Jury to think- rationally, objectively and logically. A successful Leader would do the same. Push his / her people to think on their own by merely presenting them with what is beyond the obvious. When people think on their own, their decisions become their own and they take responsibility and accountability of the same.

Facilitates others with their moments of insight – Not only does a leader push people to think, he / she also facilitates them to gain insights. A sort of a moment when they realize what they say can be detrimental or useful to the other person. Mirroring people with their own words, clarifying what they mean, stretching to understand what a person really means are some qualities that good leaders tend to work towards.
Leadership is Scary –Everyone is born with some traits inherent in him/her. Leadership is also one of them. It is the cultivation, nurture and honing of the trait that makes a person successful as a Leader. To many, Leadership is a responsibility that comes with immense power and the use of this power is something that adds on the responsibility. Perhaps then, is why, Leadership can be a scary proposition to many. By that I mean that unless a Leader is really ready to take on the "chair" with all its responsibility, Leadership can be an apprehension to many. I felt this in the scene when the Foreman is not happy with the proceedings of the Jury and having lost his temper calls out to a few Jurors to take his place. Being appointed the Foreman, he is also Juror no 1 who does everything to moderate the discussion in a fair manner. To see rest of the Jurors deny his proposition (even if it was meted out of anger) to be in the chair points to the fact that though everyone is a Leader, not everyone wants to become a Leader.
Empathy is a key trait for a successful leader to make objective decisions – Through the movie, Davis, is always putting himself in the shoes of the various people involved in the case. From the accused, to his lawyer (who may not have given his best in the case) and to the two witnesses. Putting himself in the shoes of others, gives him the ability to think like them and allows him to see what would be the other person's point of view. A successful leader has to be emphatic towards the people he / she is interacting with. Unless he / she knows "how" they feel, he / she will never be able to connect with them and influence them in the right manner.
High Emotional Intelligence – A leader not only possess Intelligence, Integrity and respect for others, he / she is someone who is high on Emotional Intelligence. He / She is aware of how he / she feels and how others feel. Keeping one's own emotions at check, managing emotions of himself and the others, he is someone who does not allow extreme emotions blur the long term visions. In the movie, time and again Davis is able to manage people who are emotionally charged. Davis consciously uses aggression and strong body language while dealing with certain Jurors. However, the catch word being "consciously", without he getting overwhelmed himself.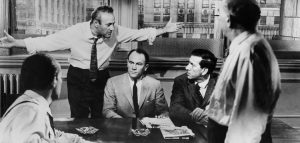 The ability to stand alone even if it means being ridiculed.
A leader is someone is not ashamed of ridicule even if he / she has to stand alone for what he / she  feels is correct. In the course of the movie, Davis, keeps using the words "I don't know, but I have reasonable doubt". Leaders do not rush into important decisions without being absolutely right. A "reasonable doubt" is enough to be investigated and pondered upon before a strategic and important life changing decision is to be made. The risk of being ridiculed is much smaller than the risk of making a wrong decision. This is something that Leaders believe and follow.
"Personal Prejudices obscures the truth"– This was a line that was used a number of times in the movie. A leader never lets his personal prejudices come in the way he thinks. Davis, is not seen having any biases or prejudices with regards to children from the slum or towards any of his jurors who at a time try to convince him that he should rush and close the case. A leader ensures that prejudices need to be kept at bay.
The movie captures moments a many that are not only thought provoking but also provide a lot of content for discussions around behavior, group dynamics, listening skills, team management and meeting facilitation. The biggest take away from the film is that every time one watches it, one is left with more room to think, a newer perspective to delve on and thereby leaving the movie watcher much more than he had imagined. All in all, how I wish, they had a woman juror as well. Would that make a difference?
Leaving you with a name of the movie that you most definitely must watch and an interesting thought to converse with your friends… 12 Angry Men.
Watch it on youtube for free – https://www.youtube.com/watch?v=7DkI2I0W5i8
Or watch the remake in Hindi – https://www.youtube.com/watch?v=mLrPhR0Gzn4
Pic Courtesy – screenprism, youtube, wikipedia