Trust – a small word but means the world.
In my years of Coaching, I realise how important trust and honesty is. How come one can trust someone so easily while it takes ages to actually trust someone else. What is that factor that allows us to trust and what is it that helps build trust. A lot of research has gone towards this and continues to do so.What I find intriguing is the only thing that allows us to trust someone is to trust ourselves, to be honest to the other is to be honest to oneself. To have a belief very strong that one knows when it is right.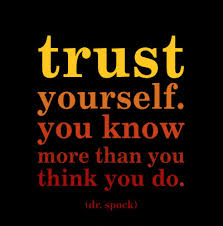 Trust has huge power. With trust on one's side, every challenge, every hurdle seems not so difficult to achieve. So whose Trust are we talking about. I am talking about the Trust in oneself. In one's beliefs, in one's doings, in one's destiny and in one's future.
If I can Trust myself enough to know that I can achieve what I set out to, I can do what I want to and I really do believe that there is nothing that is a struggle and again I trust myself, the world is mine and I know it.
There have been times when I look back at life and wonder if it was trust that got me where I am and I know the answer that each time I face a hurdle, I have to trust myself to pick me up and go on. In times of distress, one feels demotivated and depressed, but hey trust in oneself is close to trust in God and with this in mind, nothing then remains a challenge.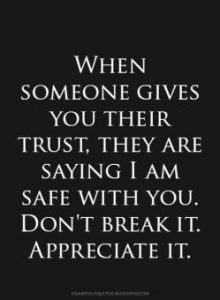 As I continuously work on the path of being an effective Coach, I realize how important it is for me to be trustworthy and honest. Ethics run high in my area of work. So does confidentiality and honesty. To be an effective Coach, I need to understand the sanctity and piousness of trust. If I cannot keep the sacredness of the engagement, I would be harming the relationship in a huge way. Sometimes I marvel at the way some people so easily say things that are considered personal and private. There has to be something and I am still searching for the answer….
Picture courtesy – tinybuddha,abhivyakti, inspirationalquotes