Welcome to Sweden..the land of "fika", lingonberries, reindeer meat, ice hockey and some very renowned crime writers.
A trip to Sweden is incomplete if you have not done the entire length of the country. Apparently when you travel from north Sweden down to the south of the country, you can experience different flavors.
We happened to travel across 3 major cities – Stockholm, the capital, Motala and Linkoping Linkoping is a small town located towards south of Sweden and if anything is to be believed it is a town lined with trees of all hues. With minimal population the town boasts of the best University in the country. The quaintness of the town lies in the fact that there is a beautiful mix of the old and the new. The cathedral is central to the town and one can actually use it for navigating within the area.
Linkoping is a haven for walkers and cyclists (who have the right of way)..and the essence of the town can only be done on foot. The place that cannot be missed is Gamla Linkoping (old city). It is one of it's kind open air museum that is built in the lines of an old Swedish village. Whilst the museum houses everything old and quaint, houses are actually tiny stores that sell souvenirs, food, clothing and everything that takes us back to old Sweden.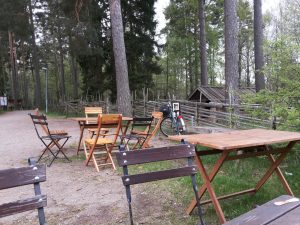 The inhabitants (if you would like to call them that) are people dressed in Swedish attire and go on with their lives of chopping wood, making fresh waffles and having a stroll together…and no they are not an "act". There are no tickets to enter the museum and you may actually miss it since it looks like a normal neighborhood. Linkoping has a little town square around which one can "fika", enjoy open cafes, walk along cobbled stone alleys and by lanes. With daylight hardly coming to an end during the summer months of June and July, the other months witness long days with the sun going down not earlier than 9.30pm on an average. This basically means that one gets longer days to enjoy since the country experiences early sun rises as well.
If you are looking for a holiday that is interspersed with history, modernity, economic freedom, safety for solo travelers, good food and hospitable company, mark the Scandinavian country of Sweden for your next trip!